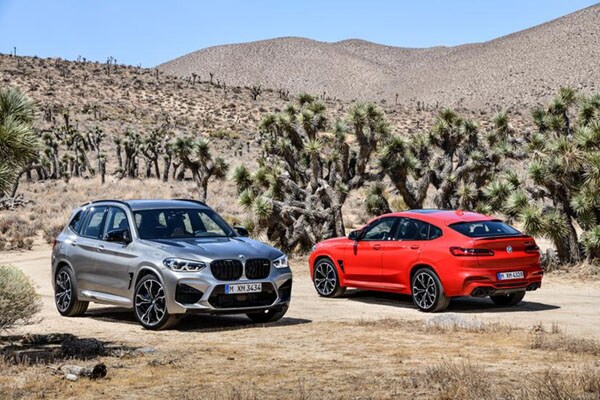 BMW introduces the newest vehicles to join the exclusive BMW M line-up; the first-ever 2020 BMW X3 M Sports Activity Vehicle and the first-ever 2020 BMW X4 M Sports Activity Coupe. Powered by the high-revving, 473 hp S58 3.0 liter 6-cylinder M TwinPower Turbo engine, the newest M SAV variants are built with more than 40 years of BMW M's experience in developing high performance automobiles that are capable on both street and track. For those who want the ultimate in performance, both the X3 M and X4 M will be available in 503 hp Competition versions.
The exterior design of the first-ever BMW X3 M and BMW X4 M takes the muscular proportions shared by all BMW X models, adds a long wheelbase, short overhangs, slightly hexagonal wheel arches, crisp lines and clean-cut surface contouring, and completes the picture with a sprinkling of tell-tale M features. Alongside the large air intakes and aerodynamically optimized front bumper, both models also sport a BMW kidney grill with black double bars. On the Competition models, the BMW kidney grill's surround is finished in High-gloss Black.
The new M models will be built at Plant Spartanburg in South Carolina, the home of X vehicle competency for the BMW Group. Plant Spartanburg is the largest BMW production plant in the world, employing 11,000 people and is supported by 300 suppliers across the U.S. 70% of the vehicles produced at Plant Spartanburg are exported overseas making BMW the largest exporter of vehicles from the U.S. by value.
Product Highlights
M Twin Power Turbo inline 6-cylinder engine: 473 hp and 442 lb.-ft. of torque.
0-60 mph in 4.1 seconds with top speed up to 174 mph.
503 hp Competition models to be available with a top speed of 177 mph.
Production begins in April 2019.
If you'd rather not wait for the M variants, Isringhausen has standard X3 and X4 SAVs in stock and available for a test drive.