New BMW X Series For Sale in Springfield, IL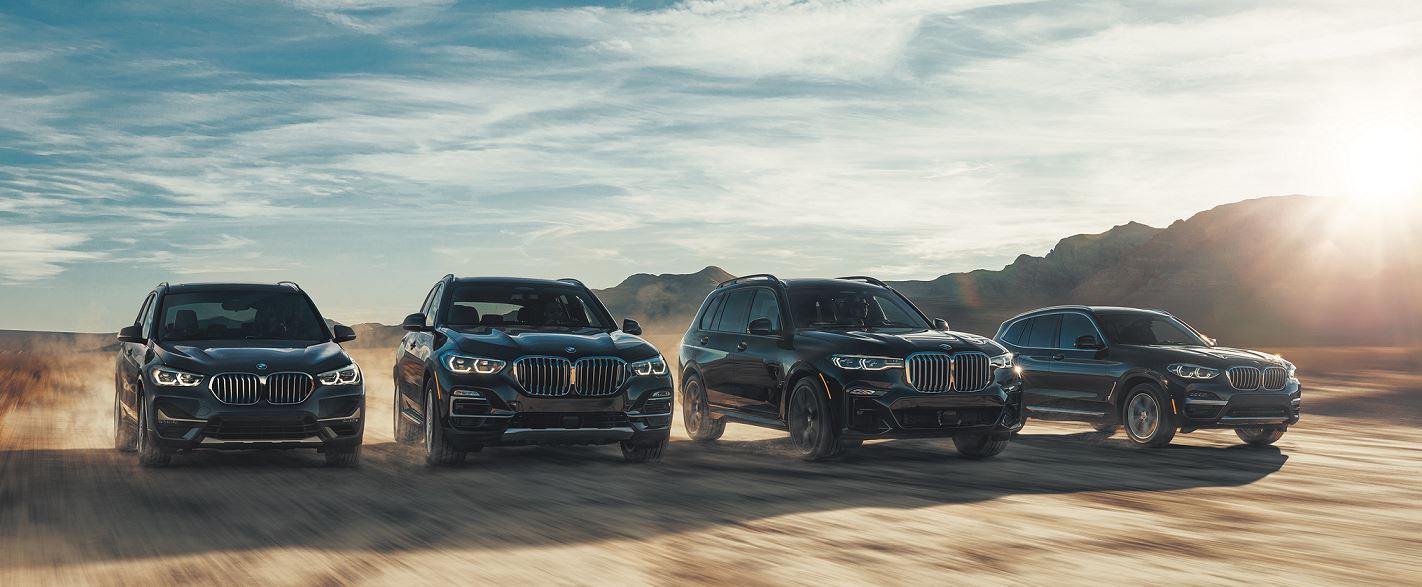 The BMW X-Series Lineup of SAVs Offers Superior Power, Convenience, and Style
When drivers around Jacksonville IL and Decatur IL come to us looking to experience the pinnacle of what a luxury SAV can be, there's only one place to turn - BMW. BMW has crafted the world's finest luxury vehicle in a diverse range of body styles with the same passion and attention to detail across the entire lineup. SAVs have proven to be a trendy choice among BMW buyers and lessees, and at Isringhausen BMW, we have every SAV model available for you to choose from.
If you're ready to see what a new BMW SAV can do, we're ready to show you. No matter which model you decide to go for, you can't go wrong. Feel free to compare models and trim levels to help find the one that best fits your needs and desires. Plus, if you apply for financing online you can save a ton of time and paperwork at the dealership.
BMW X1
The BMW X1 is a two-row luxury subcompact SAV that sits up to five people that bests the competition thanks to a well-rounded package. Its primary strengths revolve around its refined engine, surprisingly spacious cabin, agile handling, and intuitively designed technology features. 

Under the hood, the X1 is equipped with a 2.0-liter turbo-four engine that gets a performance output of 228 horsepower and 258 pound-feet of torque alongside a fuel economy of 24 mpg in the city and 33 mpg on the highway when the SAV is equipped with front-wheel drive.

The X1 comes standard with the iDrive infotainment system, which is controlled via an 8.8-inch touchscreen or a rotary knob that sits on the center console. Standard features include Apple CarPlay and navigation.
BMW X2
The BMW X2 is another two-row subcompact luxury SAV that sits up to five people. It has a larger power potential thanks to its available engine upgrade, and its main strengths are its swift acceleration, athletic handling, premium interior, and intuitive technology. Its standard engine is the same 2.0-liter turbo-four that comes on the X1, so the power output of 228 horsepower and 258 pound-feet of torque is identical. The difference comes with the available upgraded version of this engine that comes with the higher level M35i model. You'll get 301 horsepower and 331 pound-feet of torque with this variant.
BMW X3
The BMW X3 is a two-row compact SAV that sits up to five people. It features a larger body than both the X1 and the X2, which allows for even greater power potential. Its cargo capacity of 62.7 cubic feet is also a strength, as is the wealth of standard technology features. The advanced X3 M40i model comes with a 382-horsepower 3.0-liter turbo-six engine. For those who want a truly next-level experience, the BMW X3 M is a high-performance trim that gives the compact SUV even more power. There are two 3.0-liter twin-turbo-six variants to choose from - one of which gets 473 horsepower, while the other, the X3 M Competition does 503 horsepower.
BMW X4
The BMW X4 is another two-row compact luxury SAV with room for up to five and can be equipped with incredible power. Its smooth ride, responsive handling, attractive interior, and intuitive technology. The iDrive infotainment system can be swiftly navigated courtesy of its 10.2-inch touchscreen, and there are a ton of other features to keep you and your passengers entertained. The X4 also has a pair of high-performance models in the form of the X4 M and X4 M Competition. They each feature a different 3.0-liter twin-turbo-six engine variant - one that gets 473 horsepower (4X M) and another that gets 503 horsepower (4X M Competition).
BMW X5
The BMW X5 is a two-row midsize SAV that is ideal for family-oriented drivers around Lincoln IL and Quincy IL looking for something that balances practicality with performance. With a power potential that reaches up to 617 horsepower on the X5 M Competition model, this robust vehicle can hit that next gear whenever the moment is right.
BMW X6
The BMW X6 is another two-row midsize luxury SAV that sits up to five people. Its main strengths revolve around its elite lineup of engines that top out at 617 horsepower (X6 M Competition), its high-end cabin, comfortable passenger seating, and a lengthy list of standard features.
BMW X7
The BMW X7 is the largest SAV in the BMW lineup. It is a three-row full-size SAV that sits up to seven people with up to 90.4 cubic feet of cargo space. At its zenith, the X7 can produce a power output of 523 horsepower and 553 pound-feet of torque.
Hours
Monday

8:00am - 6:00pm

Tuesday

8:00am - 6:00pm

Wednesday

8:00am - 6:00pm

Thursday

8:00am - 6:00pm

Friday

8:00am - 6:00pm

Saturday

9:00AM - 5:00PM

Sunday

Closed
Make an Inquiry
* Indicates a required field